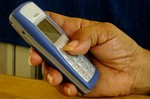 Indian telecommunication Industry is one of the fastest growing telecom market in the world. India is set to surpass US to become the second largest wireless network in the world with a subscriber base of over 300 million by April, according to the Telecom Regulatory Authority of India (Trai). The month of April 2008 will see India' wireless subscriber base that currently stands at 250.93 million surpassing that of the US to become the second wireless network in the world.
Achievements of Indian telecom industry:
World's lowest call rates (2-3 US cents).
Fastest growth in the number of subscribers.
The world's cheapest mobile handset (US$ 17.2).
The world's most affordable colour phone (US$ 27.42).
Largest sale of mobile handsets

Investment in this industry worth about US$ 24 billion by 2010, going by industry estimates owing to the growing number of mobile subscribers, which is estimated to increase to 60 billion by 2012, according to Standard Chartered Bank, implying a mobile in the hands of every second person in the country.
| | | | | |
| --- | --- | --- | --- | --- |
| Year | GSM Subscribers (millions) | GSM Annual growth | CDMA Subscribers (millions) | CDMA Annual growth |
| 2000 | 3.1 | 94% | -- | -- |
| 2001 | 5.05 | 76% | -- | -- |
| 2002 | 10.5 | 91% | 0.8 | -- |
| 2003 | 22.0 | 110% | 6.4 | 700% |
| 2004 | 37.4 | 70% | 10.9 | 70% |
| 2005 | 58.5 | 57% | 19.1 | 75% |
| 2006 | 105.4 | 80% | 44.2 | 131% |
| 2007 | 180.0 | 71% | 85.0 | 92% |